Do you want to spread your web information to over 2 billion web-enabled mobile users? Have you ever considered owning a mobile-friendly site while you are scared of the complex deployment work that follows? Don't step back! It is time to achieve your goal easily at OnlineNIC!
OnlineNIC is now offering a new service called Instant Mobilizer,which is convenient and cost-efficient to adapt an existing website into a mobile-friendly version. The great thing about this service is that it requires absolutely no effort or technical knowledge. You simply register a .mobi domain and enter an existing source site to pull content from. Even better, it allows you to market a full mobile website solution value, rather than just a domain name.
Do hurry and get a mobile site in seconds with Instant Mobilizer!
If you are currently not an OnlineNIC partner, just sign up and upgrade your membership immediately!
Should you have any questions please feel free to contact us at http://support.onlinenic.com.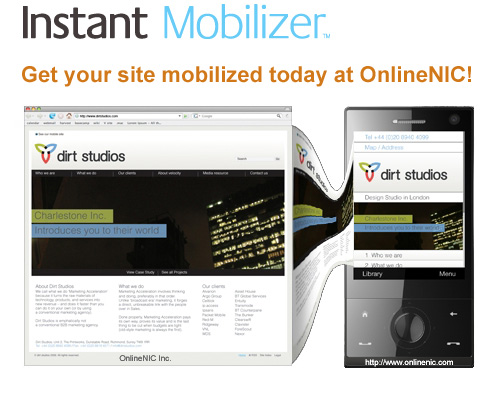 What is Instant Mobilizer?

The Instant Mobilizer reformats the content from an existing site for the individual mobile browser accessing the dotmobi domain, and presents it in a way that is formatted for mobile consumption. It also automatically adds made-for-mobile functionality by converting all phone numbers to click-to-call links and all addresses into Google map links. These elements are automatically brought to the top of the page on the mobile site.
What can you benefit from it?

Instant Mobilizer enhances your .mobi site in terms of:
Automatically resizes images, reformats text and inserts other mobile-friendly features without your development effort
Preserves look and feel of your existing web site
Increases search engine rankings
Converts phone numbers into click-to-call links and enables your clients to initiate a call to you simply by clicking the links
Converts addresses to Google Maps links, which can help your clients easily locate your business
Why You Should Market Your Small Business on the Mobile Web:

The guide to low-cost, high-impact marketing to millions of mobile phone users
How much does it cost?

OnlineNIC provides you with the most competitive prices of Instant Mobilizer service in the industry. Please note that all fees have been charged on a monthly basis since 1st December 2009. View the detailed information as below:


| | | | | |
| --- | --- | --- | --- | --- |
| Reseller Tier | Platinum | Gold | Silver | Bronze |
| Price | $1.20/mo | $1.30/mo | $1.50/mo | $1.90/mo |
How to get this service?

You can subscribe this valued service with OnlineNIC within only several steps:
Step 1: Register your desired .mobi domain from your OnlineNIC account. If you have already owned a .mobi domain, please skip to Step 2.
Step 2: Login your OnlineNIC account, click the "List My Domains" under the "Manage Domain" category, select ".mobi" and more options from the pull-down menu, and press the "Query" button. When .mobi domains are shown up in the domain list, please select one .mobi domain and click the "Instant Mobilizer" button to continue.
Step 3: Fill in the "source site" with an existing website URL where you pull content, select one option from the pull-down menu, and click the "continue" button to go to next page.
Note:
To look up the IM service you have activated, please click the ".Mobi Instant Mobilizer" under the "Value-Added Services" category. If you want to end the IM service, simply move the DNS setting to a parked page or to other DNS setting away from the default INSTANTMOBILIZERDNS.
Preview Your Mobile Site
FAQ about Instant Mobilizer
Download IM data sheet
For more information please go to http://instantmobilizer.com.