.COM domain
World's most popular domain
On SALE now! Starting at
$8.59*/1st year
Your account manager has more information.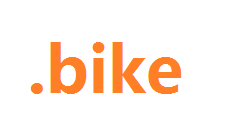 .Bike is an extension for anyone who feels connected to bicycles

Peoples' love affair with bikes started in the 19th century, and continues to this day with an estimated 1 billion bicycles in use around the world – half of which are in China. And anyone who has travelled the Asia, Europe, or South America knows how important motorbikes are to so many people. Whether riding for transport, exploration, or extreme sports, many of us find our happy place on our bike. Now you can take that happy place onto the Internet with a .bike domain name.

If you or your brand are affiliated in anyway with cycles or motorbikes, you will not want to miss this one and only opportunity to reserve your .bike domain name. Order your .bike domain name now and ride the web how you want to.
FAQ
What are the requirements & restrictions for this domain extension?

It can be registered by any individual or business in any country.
What is the term of registration or renewal?

1 to 10 years.
What are the characters and valid character length for .BIKE domain name?

1 to 63 characters.
Can I delete a domain after registered?

No, .BIKE can't be deleted after registration.
Can I transfer the domain registrar under this domain extension?

Yes. The domain name will be extended for 1 year after transfer completion.
Grace period for this extension?

OnlineNIC implements domain's lifecycle in accordance with ICANN's policy. You may also check the related article in our service term. Please understand that there is fee incurred to pull domain name from "Redemption Period", we call it redemption fee. The typical redemption fee is $120, but varies from each TLD. Please check and confirm it with our live support when you require such process.
Can I register Internationalized Domain name (IDN) for this domain extension?

No, OnlineNIC doesn't provide IDN.BIKE at the moment.
OnlineNIC's mission is to help you grow business, no matter you are small or big.
Join our free reseller program with more than 10,000 resellers worldwide
Join Our Newsletter & Marketing Communication
We'll send you news and offers.